MOVING SERVICES
Men's power
We are one of the most experienced players in the Toronto (GTA) moving market, who have been providing different moving services for over 15 years.
MOVING SERVICES
Men's power
We are one of the most experienced players in the Toronto (GTA) moving market, who have been providing different moving services for over 15 years.
Aurora / Barrie / Bradford / Burlington / Etobicoke / Georgetown / Innisfil / Markham / Mississauga / Newmarket / North York / Oakville / Richmond Hill / Scarborough / Toronto / Vaughan/
Men`s Power Moving Inc.
MOVING SERVICES WE PROVIDE:
0

long distance moving services

0

international moving services
Testimonials
Our customers experience
Anna
These guys helped me move 3 times throughout the years. They helped me out with small loads when necessary too. Each time, the entirety of my belongings was completely intact after the move. These guys are quick, diligent, and trustworthy. Special thanks to Artem, Ali, and their crew for the help throughout the years.
George
We had two movers come last Thursday to move our furniture and the service was terrific. They have a huge truck which meant all of our staff could be moved in one trip which took less time. It was also a tough job because our older apartment had no elevator and they had to carry our stuff down several flights of stairs, which they did really fast. They arrived on time and Id 100% use them again if the opportunity arose.
Eugene
I have used Men's Power guys over 10 times for both residential and business moves and have only good things to say! On-time, courteous, and professional. They have never let me down!
Audrey
Professional team. Reasonable prices. Good job! Guys were professional, quick, and easy at all times, on the phone and in person. Clean work. Very satisfied. Recommend.
Jane
Great job! We moved from Toronto to Montreal. The guys from Men`s Power packed all our things well, disassemble large furniture, carefully carried everything out, and loaded it into their truck. All items arrived without a single scratch and damage. They unpacked everything, assembled it, put it in its place, and took away all the garbage. We are very satisfied! The guys work very quickly and most importantly neatly. Always smiling and polite. This is our best experience with moving companies. We recommend it to everyone!
Miriam
What a great recommendation it was to use these guys for the moving services of our client. They have packed our clients in the downtown condo and then moved to the new one. All with a smile, patience (also when things went sideways), and professionalism. I can't wait to work with them again! Thank you so much for making this move a pleasure!
Victoria
Artem is amazing! We moved from Toronto to Orlando, and Men's Power made it easy for us. They took care of everything we asked for, and all our stuff arrived with no damage, on time! They did a great job! I totally recommend them for any move!
Tommy
An extremely professional moving company. I was recommended to reach out to them by a friend. Guys were on time, organized everything very well, and were friendly in their approach. I would double recommend it!
Yaroslav
I wanted to thank you, guys, for your service! Considering the number of scams in this business, I was really scared to be overcharged and/or damage my belongings. However, these guys were absolutely to the point with expectations, price, and timelines! Everything was delivered without a single dent! THANK YOU!
Denys
Great Team! Using their service for almost 7 years. Always in-time. Fast, reliable, and professional. The best no-worries service. Thank you!
Svitlana
Perfect service! Guys moved everything fast and careful. We had no issues at all. Great communication. I recommend this service 100% and will definitely use it in future!
Men`s Power Moving Inc.
Moving Services In toronto (GTA)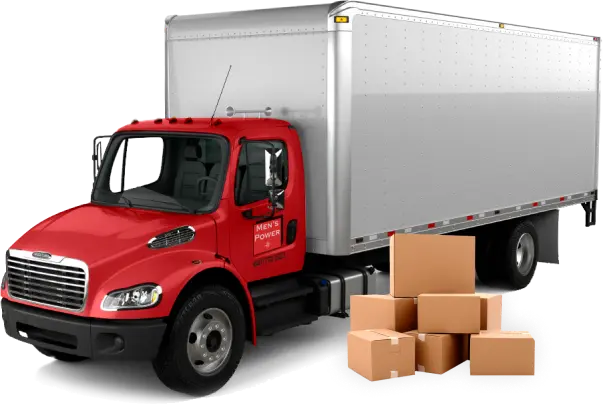 The best solution your moving
Men`s Power Moving Inc. is a moving company that has been honing its skills in providing moving services for many years and exploring the needs of its customers to find the best ways to solve various problems.
With its fleet of trucks, all the special equipment needed, and most importantly a team of professional drivers and movers who know the moving process thoroughly, Men`s Power Moving Inc. provides the highest quality moving services in Toronto (GTA) and beyond. We know exactly how to make your move as easy, fast, and inexpensive as possible. We know exactly how to help you. Call us - we promise you will be satisfied. The best movers in Toronto are waiting for you!
Aurora / Barrie / Bradford / Burlington / Etobicoke / Georgetown / Innisfil / Markham / Mississauga / Newmarket / North York / Oakville / Richmond Hill / Scarborough / Toronto / Vaughan/